The Brazilian national football team is one of the best teams and references of this sport, which, having been born in Europe, more specifically in the British Isles, spread throughout the world to leave us flashes of good work, competitiveness and values ​​of good sportsmanship that are so important to our lives.
So it is a faithful representative of the spirit of Brazilian football. Good football, excitement, joy and consistency. The Brazilian national football team is the one that has won the most World Cups, 5 World Cups; in the years 1958, 1962, 1970, 1994 and 2002, and 9 Copa de América; in the years 1919, 1922, 1949, 1989, 1997, 1999, 2004, 2007 and 2019.
But how did the beautiful sport start in Brazil? Its beginnings seem to be due to a son of Scots who emigrated to Brazil at the end of the 19th century to build the train in the city of Sao Paulo named Miller, Charles William Miller, a miller in Spanish. This young man was sent by his father to study in the United Kingdom and there he learned and played this sport and on his return he brought with him a ball and all his knowledge from there until today.
The first football club in Brazil was the Sao Paulo Athletic Club in 1888.
For its part, the Brazilian Football Confederation (CBF) was created in 1914.
The first match of the Brazilian national football team took place in 1914 with a defeat against Argentina by 3 to 0 and already in 1919 and 1922 Brazil won the Copa América. Of course, in their ranks a true prodigy played, Arthur Friedenreich; a son of German emigrants who dazzled his followers as much or more than Pelé in his time, although he is hardly known outside of Brazil. But although the statistics at that time were not what they are today, it seems that he scored more goals than Pelé, that is, he could be one of the players who has scored the most goals in his career; there is talk that they could reach 1379.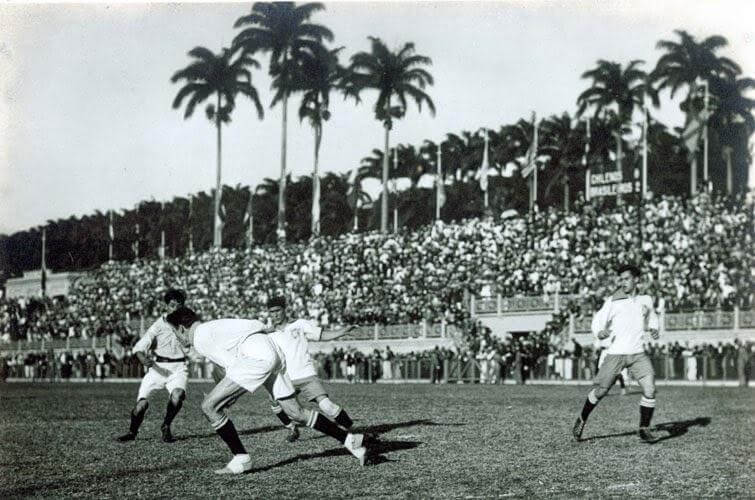 Brazil wearing a white shirt during the 1919 Copa America game against Chile
It is important to note that the Brazilian team has participated in all editions of the World Cups. The first editions of 1930 and 1934 the team did not come out very well, it was sent home by the Yugoslavia team in the first phase in 1930 and by the Spanish football team in the round of 16 in 1934. Already in 1938 it started to offer what later proved to be one of the greatest football teams of all time, ended in third place in the tournament, with a great game from Leonidas da Silva, born in 1913, another Brazilian scorer who was also a legend in his time in Brazil, inventor of the bicycle kick. In this World Cup he was the top scorer with 7 goals.
---
His record in World Cups and America's Cups, where we will include victories, his participation in the quarterfinals, semifinals and finals is impressive. This will give us a clear picture of why Canarinha, as the Brazilian soccer team is known, is considered the best team in the world.

SIGNIFICANT RESULTS OF THE BRAZIL NATIONAL TEAM AT WORLD CUP, COPA AMERICA AND OLYMPIC GAMES:

BRAZIL AT THE WORLD CUP:

We will include the wins and the second, third and their quarter-final rankings in the table position.
France 1938 World Cup: Third position
Brazil 1950 World Cup: Finalist, runner-up
1954 Swiss World Cup: Quarter-finals
1958 World Cup Sweden: Winner
Chile 1962 World Cup: Winner
Mexico 1970 World Cup: Winner
Argentina 1978 World Cup: Third position
1986 World Cup Mexico: Quarter-finals
1994 World Cup USA: Winner
France 1998 World Cup: Finalist, runner-up
2002 World Cup Japan and South Korea: Winner
Germany 2006 World Cup: Quarter-finals
2010 World Cup South Africa: Quarter-finals
Brazil 2014 World Cup: Fourth position
Russia 2018 World Cup: Quarter-finals

BRAZIL AT THE COPA AMERICA:
We will include the wins and the second and third position in the table.
Copa América 1916: Third position
Copa América 1917: Third position
America's Cup 1919: Winner
Copa América 1920: Third position
Copa América 1921: Finalist, second position
Copa América 1922: Winner
Copa América 1925: Finalist, second position
Between 1926 and 1935 he did not participate
Copa América 1937: Finalist, second position
Copa América 1942: Third position
Copa América 1945: Finalist, second position
Copa América 1946: Finalist, second position
Copa América 1949: Winner
Copa América 1957: Finalist, second position
Copa América 1959 of Argentina: Finalist, second position
Copa América 1959 8 In that year 1959, two Copa América were organized, the second one held in Ecuador9: Third position
Copa América 1983: Finalist, second position
Copa América 1989: Winner
Copa América 1991: Finalist, second position
Copa América 1995: Finalist, second position
Copa América 1997: Winner
America's Cup 1999: Winner
America's Cup 2004: Winner
America's Cup 2004: Winner
Copa América 2019: Winner

OLYMPIC GAMES:
1984 Olympics Los Angeles: Runner-up, second place
1988 Olympic Games Seoul: Finalist, 2nd place
1996 Atlanta Olympics: Third position
Beijing 2008 Olympics: Third position
London 2012 Olympics: Finalist, 2nd place
Rio de Janeiro 2016 Olympic Games: Winner
---
LEGENDARY PLAYERS IN THE HISTORY OF BRAZILIAN FOOTBALL

Brazilian football has produced great players who are among the best in the world, they are global legends who have given us the best moments of the beautiful game, we still visit their videos, their plays, their masterful touches, their joy and determination.
Apart from the players mentioned in the section on the beginnings of the Brazilian National Team; Arthur Friedenreich and Leonidas da Silva remember some essential figures:

Manuel Francisco dos Santos, Garrincha, born in 1933 in Rio de Janeiro, was a Brazilian striker who, although he lived in the footballing shadow of Pelé, left his mark on Brazilian football. He did not have the physique of an athlete, in fact he had one leg longer than the other and problems with his spine, his personal life was anything but methodical that the career of an elite athlete requires and he ended up dying very young due to his problems with alcohol , but he was dazzled by his great dribbling, in fact he is considered the best dribbler in the history of world football. He played for Botafogo for more than ten years where he won three Cariocas Championships, the Rio de Janeiro State League, then toured other Brazilian, Latin American and European clubs, among others Corinthians, Junior from the Colombian city of Barranquilla, Flamengo or the Red Star in Paris. He was a very important figure for the Brazilian team to win the 1958 World Cup in Sweden and he repeated the feat at the 1962 World Cup in Chile when Pelé was unable to play due to an injury. His dazzling dribbles will always remain to the joy of the Brazilian people.
Edson Arantes do Nascimento, Pelé, born for football in 1940 in Minas Gerais, is the god of football, the best player in history. Talking about him is talking about the football legend par excellence. His origins in a humble family, the son of a footballer father, Joao Ramos do Nascimento called or Dondinho, his beginnings in Santos where the second season would score so many goals that it became essential and that would be the beginning of an extraordinary relationship. He stayed at this club in the city of Santos in the State of Sao Paulo from 1956 to 1974 and allowed the team to become a team with extensive victories and exceptional years, especially in 1963 and 1963. His first World Cup in Sweden of 1958 with only 17 years with a semifinal won, with three goals from Pelé, by 5 to 2 against the French team that had another star, Just Fontaine, and the final against host Sweden for the same result 5-2, where Pelé scored 2 goals raised him to fame. The young man would be the second best scorer with 6 goals and from this World Cup he would become a star. This World Cup was the beginning of a long career of triumphs in the World Cups that would be repeated in the World Cup in Chile in 1962 and Mexico in 1970. The list of his decorations is endless but let us mention a few, Scorer of the Paulista Championship on 9 occasions and other distinctions that exceed the world of football such as Recipient of the Prize of the French Academy of Sports in 1971, Recipient of the International Peace Prize in 1978, Athlete of the Century by L'Équipe magazine in 1980 or the Honorary Golden Ball to his career through FIFA or his award from the Order of the British Empire in 1997. His total number of goals scored is more than 1200 with Santos, New York Cosmos where he finished his career and with the Brazilian National Team. His game can be summed up in two words, the beautiful game, a creative, intuitive game but it was not only that, he had an exceptional physique, technique and strength, he gave incredible passes, good headers, great shots from distance, he had it all, but above he was eager to score and enjoy the field.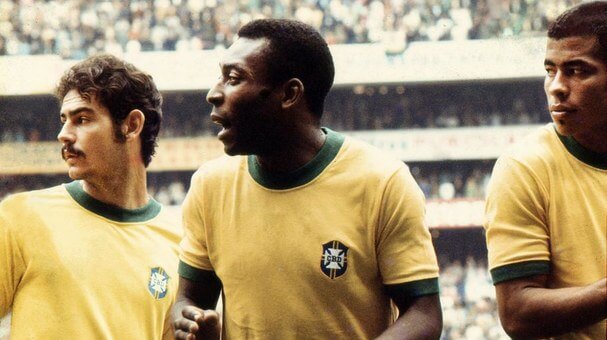 Arthur Antunes Coimbra, Zico born in 1953, midfielder who dazzled in the 80s. He was faithful to Flamengo from 1971 to 1989 where he scored more than 508 goals and was a legend and where he won four national leagues and in 1981 the Copa Libertadores and the Copa Intercontinental 1981. He later played for Udinese Calcio in the Italian city of Udine and ended his career in no less than Japan at Kashima Antlers where he won the Japanese league and was later a coach in 1999 and a great promoter of football in Japan. . His stone on the way was not having been able to win a World Cup with the Brazilian team despite participating in the 1982 and 1986 World Cups in Spain and Mexico respectively but he is still one of the great Brazilian footballers, being the fourth scorer of the history national team. He was called Pelé Blanco, a great free kick taker, with fantastic assists and a great instinct to organize the game.
Socrates Brasileiro Sampaio de Souza Vieira de Oliveira, Socrates, born in 1954, owes its philosophical name to his father in love with Greek philosophy. Socrates, by profession, is one of the great Brazilian soccer players of the 80s. His biography is full of curious anecdotes such as having promoted the establishment of democratic decision-making in the Corinthians de Sao Paulo team when Brazil was a dictatorship . In the parties he used his popularity as a political activist in favor of the poor and disadvantaged. He started at Botafogo in 1974 where he played four seasons, he played for Corinthians in Sao Paulo for six seasons until 1984, he was hired by Fiorentina of Italy where he stayed for a season to return to Brazil and play for Flamengo and Santos where he ended his career in 1989 although in his statistics it appears that he retired in Botafogo, a club that hired him in 1989 but in which he did not play any games. Together with Zico, he had the misfortune of not being able to win any World Cup despite participating in Spain 82 and Mexico 87 despite having been international in 60 games and scoring 22 goals. In 2004 he was distinguished as a member of the FIFA 100 list. He played in the midfield of a high 1.92 height but with a foot very small for his height, a great passer and dribbler and with a good powerful ball shot , his characteristic move was the backward heel of which he was a teacher. He became a benchmark for his elegance in the field, always with the composure of an English Lord with high head dominating the field.
Ronaldo Nazário, born in 1976, was the great Brazilian player of the 90s and the first decade of the 21st century. He started at Cruzeiro in 1993, he developed a large part of his career in Europe, first at Philipps SV, in the Barcelona one season, at Inter Milan five seasons to play for Real Madrid then another five seasons where he won the league in 2002 and 2007, AC Milan and finished at the Brazilian Corinthians. He participated in four World Cups, winning the United States in 1994 and South Korea and Japan in 2002, where he scored 15 goals, a record that earned him the title of top scorer. In fact, it is after Pelé the player who has scored the most goals with the Brazilian team, specifically 67. He won the Ballon d'Or in 1997 and in 2002. He was known as O fenômeno, considered one of the best center forward in football and his story. A very fast, agile player, king of the feint or dribbling to deceive the rival.
---
The Brazil retro football shirts represent the best football of all time, they are symbols that we can wear on our skin. Although it sounds strange in the first decades the color of the shirt was white with blue pants. From the Maracanazo it was changed so that the shirt that reflected the colors of the Brazilian flag, the iconic yellow shirt with a green collar.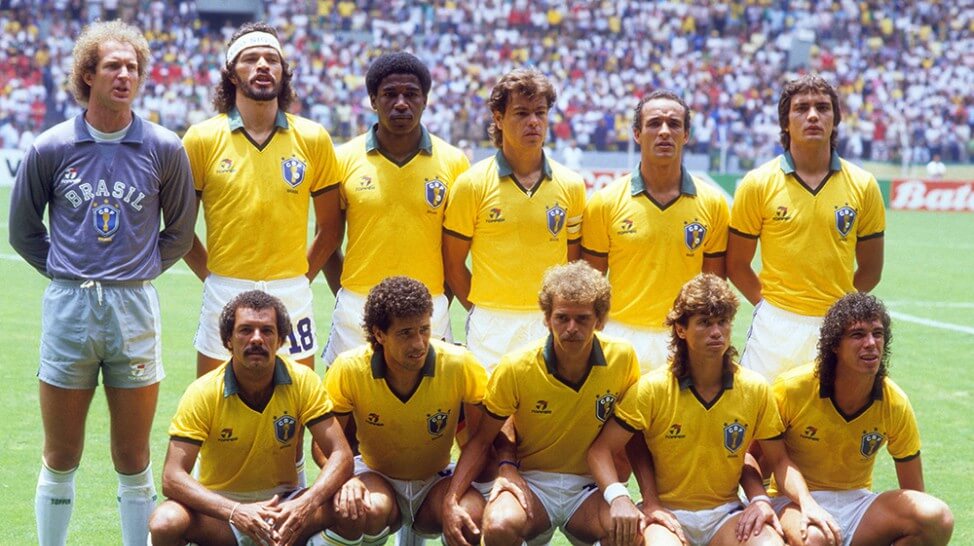 Brazilan National Football Team at 1986 World Cup in Mexico
You can visit our section of shirts of the Brazil national football team, do not miss the 1958 Brazil blue shirt from the final against Sweden in the 1958 World Cup when the young Pelé left the whole world with their mouths open. In the description you can read why Brazil wears the away kit in blue. Or the shirt of Pelé's great moment at the 1970 World Cup, the 1970 World Cup Brazil Retro Shirt, one of the most charismatic in the history of football.